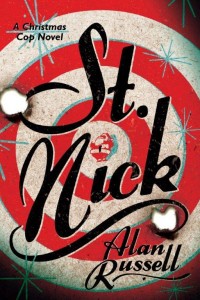 It's not looking like a very merry Christmas for San Diego cop Nick Pappas. Suspended from his job, alienated from his family, and persecuted by the press, he's sorely tempted to turn his gun on himself.  But when a local mall decides it needs a secret Santa to help collar some vicious muggers preying on its holiday shoppers, Nick's persuaded to red-suit up so as to take the naughty punks down and avert a ho-ho homicide. For a chance to bust bad guys, Nick's willing to deal with crying kids, pushy parents, and a chronically cheerful "elf" sidekick. But the biggest challenge for this cop-turned-Claus is one that would confound even the real Kris Kringle: making a pair of next-to-impossible Christmas wishes come true for two children in need…before it's too late.
A note from the author:  I must admit that of all my novels this book is my sentimental favorite.  In order to prepare for the writing of the book I was a full-time mall Santa Claus for one Christmas season.  I couldn't be more pleased with the response of readers.  If you look at Amazon you'll see that two-thirds of the reviewers have awarded the book five stars along with wonderful plaudits.
Almost one-fourth of the reviews have proclaimed:
"This is a great book!"
I hope you agree!